Out of all my fonts, Medu — the authentic hieroglyphic one — is probably my favorite. (it's for sale on DriveThruRPG if you're interested) And, probably unlike the average person (but then again, are any of us gamers average people?) I have played around with real papyrus a time or two. Naturally, these things converged.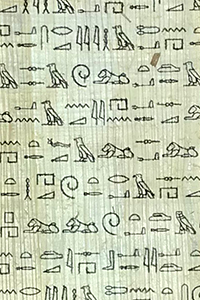 Specifically, they converged in that this morning, I successfully printed some text (the Negative Confessions) in Medu on a piece of real papyrus!
The example to the right is a detail from the printout. A picture of the full page, and more information about how I printed it, is after the break.